Let's be real people, not all of us can stay 24 forever; that's just a special arrangement I made with God 😏 14 years ago. So…since none of us have the all-magical fountain of youth in our backyards, I thought perhaps I'd share the daily routine I currently follow to keep the years visibly away.   This post is about my current face cleansing routine. This is by no means a routine with high-end products since I sincerely appreciate the convenience of having the drug store around the corner where I can easily find my scrub if I'd forgotten it on my weekly shopping trip. This is by all means a routine of convenience and a modest budget; using all drugstore products. So let's get into it.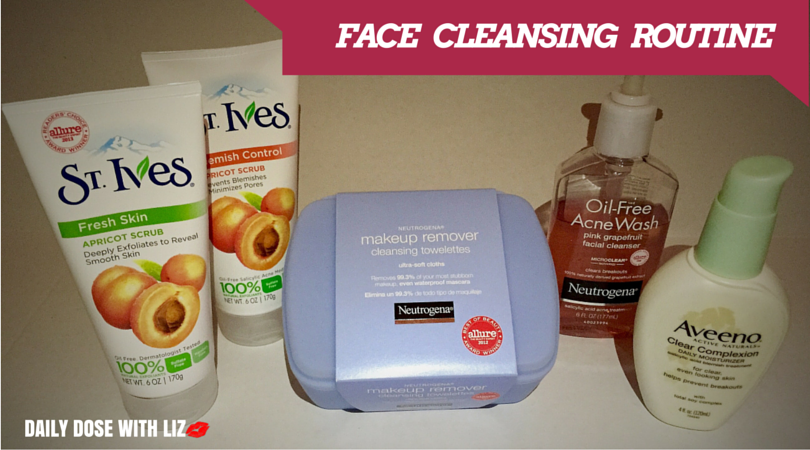 I first slither my way out of bed and make my way, close-eyed and dragging my feet, to the shower where I complete the first part of my face cleansing routine. Here I have the St. Ives® Fresh Skin Apricot Scrub, and if I remember to grab it on my way into my "wakeup waterfall," I will also use the Neutrogena® pink grapefruit facial cleanser.   I cleanse my face first, of course, and then use the scrub. The cleanser contains salicylic acid and is quite thick, so it gives a really good lather once you work it up a little. It smells incredible – the fresh, fruity scent is quite pleasing, so you don't mind so much having to work it a bit until it lathers up. I don't know if you're like me, but sometimes after washing my face I don't always feel like it's the best clean it could be. So this is why I also use the Fresh Skin scrub. I use this one because of the fact that the cleanser already has salicylic acid, I don't want to use anything else with this ingredient; my skin is prone to drying out and I think it would just be too harsh on the skin and dry it out too much. It also doesn't help that I live in an area with very harsh water.
After I've woken up a little bit I then find myself at the sink ready to moisturize and prepare my skin to take on the elements of the day. I am the poster child for combination skin. AND…even though I'm just 24 forever 👀, my face seems to have forgotten that I am waaaaay beyond adolescence and should not be dealing with breakouts and blemishes. So although my entire face gets very dry after cleansing, throughout the day it gets really oily in the typical combination skin area – the t-zone. I've tried a number of different moisturizers to help balance this, but none held up to the troublesome task until…wait for it…AVEENO® CLEAR COMPLEXION DAILY MOISTURIZER. I absolutely LOVE this moisturizer! Though fairly inexpensive, this is a really great moisturizer. It's not thick, it leaves your skin feeling hydrated and, best of all, it really does clear up your complexion. At least for me it did. This product really worked for me and I highly recommend it for anyone who has issues with breakouts, or has had issues with breakouts in the past.
In the evening, my routine is again fairly quick and simple. I first wash off any makeup with the Neutrogena® makeup remover cleansing towelettes and then go straight to the St. Ives blemish control apricot scrub. If I feel that my face has experienced an especially rough day, then I will wash with the Neutrogena® pink grapefruit facial cleanser first and use the St. Ives fresh skin apricot scrub. After the scrub I rinse, of course, and then moisturize with the Aveeno® clear complexion daily moisturizer.
So pretty much that's it. This sums up what I do every morning and every evening as my face cleansing routine. Of course there are other nights when I will make an entire evening of beauty. On these nights I might use the PMD Personal Microderm, do a deep cleanse, maybe even a mask, toner, and blemish fighting creams. These might be other posts for other days. 😊
How about you? What is your routine? I hope if you don't have one yet, that you might give these things a try. I have to admit, I've recommended the scrubs and face wash to a few different people and they absolutely LOVE them! If you do try them out, please come back here and let me know. I'd love to hear how they worked – or didn't work – for you.
Until next time lovelies…Be kind 👐. Be sweet 🍬. Be real 👊 but always DO YOU! 😘 💋