Like many women, I am a wife, a mother, a daughter, I work full time, and assist my entrepreneurial husband when he needs me. Yes…like many women, I too wear many hats!  And I am by no means an expert nor have I found THE perfect balance between work and the rest of my life. However, in my own struggle to find some sort of balance between working, being all of these things and finding time for myself too, I have stumbled upon five tips worth sharing. These are not scientifically proven to be the end all – be all, but I do believe they will aide in the process of finding a good balance that works for you.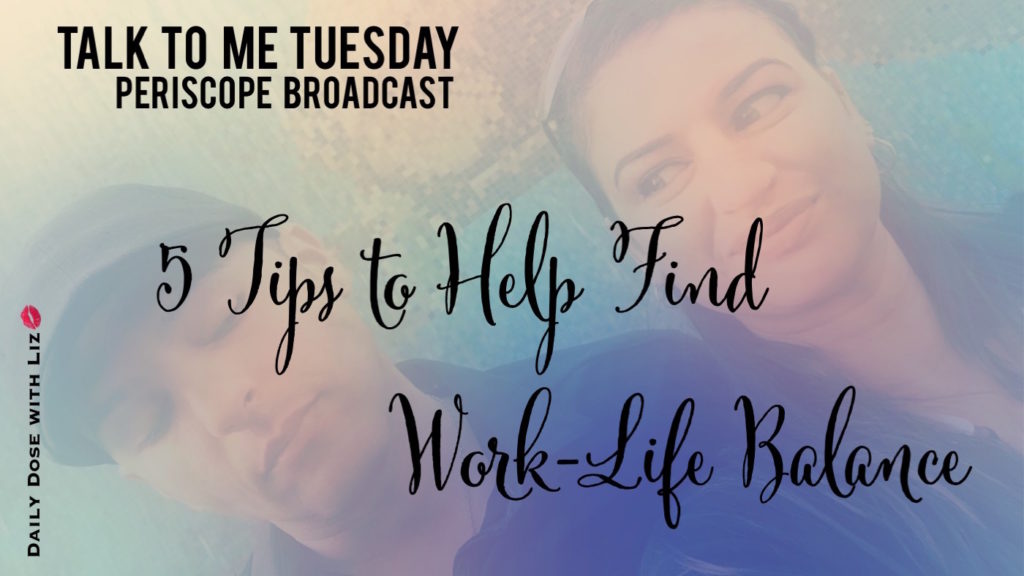 I should add here that even if you don't work outside of the house (like an office job), but you are working from home and have a family, implementing even just some of these tips would still help you in your journey to find balance in your life.
TIP #1 UNPLUG / WALK AWAY / TAKE A BREAK
I'm emphasizing this one quite a bit because I find it to be one of the most important tips.
Both life and death are found in the ELECTRONICS! Especially if you receive work emails on your mobile devices. YOU NEED TO UNPLUG. Walk away from the phone/tablet/computer…even if just for an hour (start small).
Unplugging will help you to realize your priorities. Start by asking yourself what is truly important to you…what can't you live without? Little hint…faith and family should be somewhere in the top two. Then ask yourself what changes could you make in your life to make things easier in these priority areas.
Know that unplugging IS okay.
If you HAVE to have the device on you, try turning off notifications. Again…even if just for an hour. Remember, we're starting small.
Make sure that you are giving your priorities quality time. True. Quality. Time.
Now TAKE ACTION! You want to know how to do it? You're asking yourself, "How the heck do I just put down my phone, or walk away from my computer or device and ignore the notifications that might pop up or the messages that might come through?! What happens if I miss out on something?!" I'm not gonna lie…this is going to take a little bit of effort on your part, but I'll walk you through it. Ready? Let's go…walk with me. Let's walk to the resting place where you plug your phone in to charge while you sleep. Take the phone, place it in its resting place…LET GO…now RUN! Run away, and go fast!
TIP #2 EXERCISE / PRAYER
Exercise and prayer are CRUCIAL to both our physical and our mental health. This helps us get to a point of reflection.
Doesn't have to be done EVERY day.
Start slow. Maybe one day a week for 30 minutes, and then build from that.
TIP #3 ORGANIZE AND PLAN –> UNPLUGGED (or with notifications OFF)
If you're a #plannergirl then grab your (current) favorite planner and PLAN!
Chunk your time for priorities, and for exercise and prayer.
Don't set yourself up for failure. START SMALL. Like I shared in tip #2, schedule maybe 30 minutes for each of your priorities. Try once a week as a starting point. AND remember that you don't have to schedule them every day.
Let yourself experience the win, the small victory, of completing the 30 minutes.
TIP #4 PERFECTIONISM…(be like Elsa) LET IT GO!
Trying to perfect every single thing that you do will absolutely kill your productivity and waste your time.
You will create stress and place negative, unneeded pressure on yourself.
TIP #5 CREATE BOUNDARIES FOR TIME WASTERS
We all engage with individuals or participate in activities that do nothing more than waste our precious time. And we let it happen.
LIMIT time wasters. You don't have to do away with them all together, but do be sure to limit how much of your time is allotted for them.
In conclusion, implementing these tips will usher in changes to the overall structure of your life and help you to find a peaceful balance.
Here is the Periscope broadcast where I shared these tips in more detail. Feel free to click and watch. Be sure to click SUBSCRIBE so you're sure to not miss any future videos! J
Do you have a tip on finding work-life balance that I haven't mentioned here? Leave a comment below and I just may feature it in a future post!
Until next time lovelies…Be kind 👐. Be sweet 🍬. Be real 👊 and always DO YOU! 😘 💋