So here you have it. 10 Random facts about me J. Of course, there are significantly more facets to this diamond that is Liz, here are just a few facts to help you in getting to know me and maybe understand this beautiful disaster a little bit better.
I never used to like my first name – but now…I LOVE it
I'm super crafty. I love to bake, decorate cakes and cupcakes; love to scrapbook; and most recently, decorate my Happy Planner.
Growing up, I was VERY much a tomboy. I just LOVED playing football.

My Triumph 675R

I LOVE MY MOTORCYLE. Ahh…she's a diva.
I didn't really begin wearing makeup until I was in my 30s – wore powder (to reduce shine) eyeliner and lipstick (neutrals) in high school but THAT was it.
First high-end makeup purchase was Clinique – face powder.
I am a nail polish FA-NAT-IC! I polish my nails every. day. If they're not polished it's just for a day to allow them to breath.
My favorite brand of nail polish is Revlon. They're amazingly priced and have incredible wear ability – I've worn one color for up to 4 days without any chipping! Revlon has developed an expansive color selection giving OPI and other high-end brands a run for their money.
I am completely💕IN LOVE💕with my fur-babies. I have four; 2 cats and 2 dogs. Of course, I'm not in love with all of them all day every day since they do things to really tick me off – like running across my path in the dark when I get up to get water in the middle of the night. But I am in love with them at all the other times of the day. Unless of course they pee on my curtains, crap on the carpet, or track litter all over the house…(sigh). After that. After it's all cleaned up, I love them after that.
I once made a commercial with Shaquille O'Neil – when he was playing with Orlando Magic. He truly is a big kid at heart.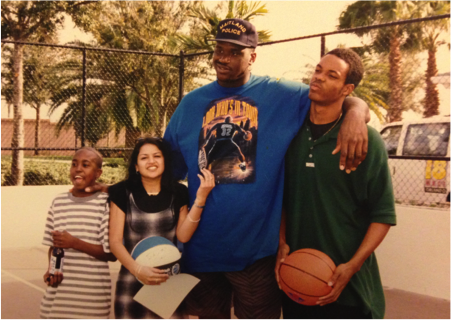 There they are…10 random facts…
So what about you? Can you relate to me on any of these? Tell me one random fact about you in the comments section below or Tweet me! I would like to get to know you too!