Can you say OBSESSION?! I have been completely obsessed with anything and everything planner related for the last few months. Why you ask? Well…because I'm a very creative and crafty person, and planning allows me that creative outlet.
Since diving "head first" into this #plannerAddiction, I am finding SO many new and different ways to customize my planner. My current "go to" planner is the Me and My Big Ideas (MAMBI) Happy Planner. I'll publish a review on it soon! In the mean time, allow me share with you a really simple, creative and fun way to customize any planner.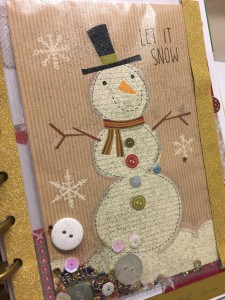 To make this basic shaker will only need a few items…
Page protector(s)
Card or photo of your choice to use as a background
Glitter
Confetti
Charms, buttons, or any other accessories you'd like to hear moving around
Fuse tool (or washi) to seal the edges
Paper trimmer
Hole punch
Step 1   Place your card or image first. This will help you determine where to cut the page protector so that you can continue putting together your shaker. Cut and seal the sides to create a pocket, but don't seal the top yet – we need to add the "shaker" parts!
Step 2   After you've sealed the sides, add all of charms and accessories you'd like, including confetti and glitter. Be forewarned with the glitter though, it will get EVERYWHERE. So you may want to use a tiny scoop or spoon to help you place this a little more deliberately inside the pocket.
Step 3   Once you have everything in the shaker that you'd like, seal the top.
Step 4   Hole punch the side so that you can place it in your planner.
THAT is it! So simple, so easy, and takes almost no time at all. Honestly, the hardest part is determining which items to include, but that's also the most fun! Actually, once it's all put together, shaking it is the most fun! 😊
Here is an edited Periscope video of me experimenting with the fuse tool to make my first shaker. Learn from my mistakes and have fun!
If you enjoyed this post and decide to make a shaker of your own, I'd love to see it!  Follow me on Instagram, Facebook, Twitter and Periscope.  I'll follow back!
Until next time lovelies…Be kind 👐. Be sweet 🍬. Be real 👊 but always DO YOU! 😘 💋