As a #plannernewbie, we hear the words "happy mail" and get instantly excited! I know I do! It sounds SO FUN! The term itself says it's happy…I mean really! Right?! And happy mail can be one of the most fun experiences within the planner community.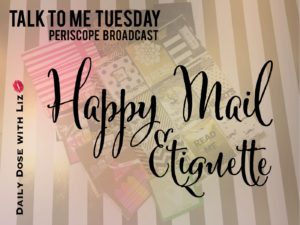 So, what exactly is happy mail? I think I have a pretty good grasp, as most of us do. Happy mail is easily defined by the #plannercommunity as snail mail received, that's not bills or junk mail, which makes us happy. As #planneraddicts, we ALL love sending, as well as receiving, this beloved, and sometimes unexpected, happy communication. But to do this successfully, and ensure that both the recipient and sender have a pleasant experience, we should be certain to respect the following guidelines.
---
Here is the Periscope of the Talk to Me Tuesday broadcast.  It's fun and short! So click,  watch and subscribe! 😉👍
---
Do
Don't

Know that receiving happy mail is a luxury, not a necessity or requirement for connection or friendship

Send expecting happy mail in return

Accept happy mail graciously

Be ungrateful with what you've received

Send happy mail from the kindness of your heart

(Very important) Think of the recipient, and ask yourself:

What does this person like?
How do they plan?
What's their style?

Send to just send, or get rid of "junk"
It's important to remember that either sending or receiving happy mail is not about the things. It's about the connection. A simple post card can be the most touching happy mail received by someone if the recipient is gracious to accept and feel the genuine sentiment in which the card was sent.
Just be certain to maintain the goal of making and building a connection or friendship and you will be golden.
What are some ideas of goodies to include in happy mail?
You can send so many things like a card, letter, a personalized shaker (here's a tutorial I did on how to make one), dashboard, dividers, clips, pens, notepads or other stationary.  So, it will be really important to ask yourself some of the questions listed above.  What other ideas do you have that you could share for happy mail?  Leave a comment below, I'd love to see your ideas for sending smiles!
Are you excited about being part of the planner community and want to meet other #planneraddicts? Join us over on the FaceBook group, Daily Dose with Liz. There you can meet many other new and seasoned #plannergirls! We share lots of fun info and we participate in swaps, games, and giveaways. Join us today!
Until next time lovelies…Be kind 👐. Be sweet 🍬. Be real 👊 but always DO YOU! 😘 💋